Soundscape Product Information
---
Adcom GTP-870 A/V Pre-amp Processor
Call for best price

The GTP-870HD is ADCOMís latest 7.1-Channel AV Preamp/Processor solution. Along with a full compliment of industry-standard audio and video inputs, the GTP-870 also sports balanced (XLR) outputs for use with ADCOMís most powerful multichannel amplifiers. The GTP-870HD incorporates the National Semiconductor Video Converter and allows you to configure each video input for the proper resolution needed for your HD display.
GTP-870HD Surround Sound Processor:
Dolby Digital EX, DTS ES and Prologic IIx
7.1 Surround Processing
National Semiconductor AVC2510
Video DSP Scale analog video sources up to a max of 1080p
Scaled signals output through HDMI
Upconverts Composite and S-Video to Component
Adjustable Lip Sync
Audiophile Bypass Mode
Independent Room 2 Out w/ advanced equalization
Balanced and Unbalanced audio outputs
Upgradeable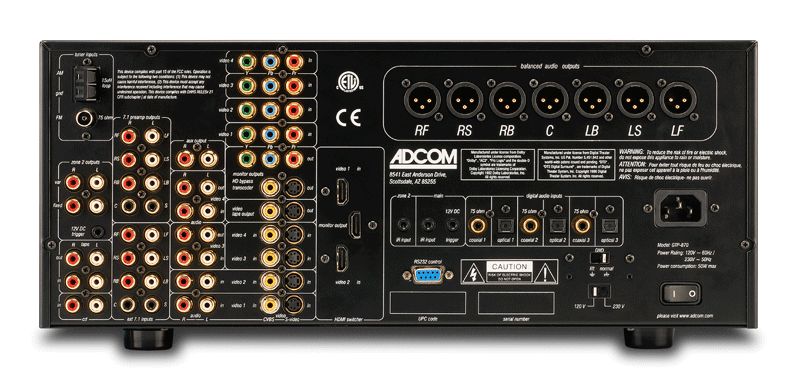 ---
You can call us for free from anywhere in the USA!
Our Business Hours are:
Monday - Friday 11am to 7pm Pacific Time
Saturday 12pm to 5pm.
We are closed on Sunday!
---
Last Updated: September 9, 2008
---
---
---
---

1044 Fourth Street, Santa Rosa, CA 95404
Phone/Fax 707-578-4434 or 800-450-HIFI
marcs@sonic.net