Soundscape Product Information
---
Adcom
Stereo MOSFET Power Amps

ADCOMís amplifiers are designed to reproduce incredibly wide dynamic range, broad frequency response with all the intricacies of the original music.
GFA-5500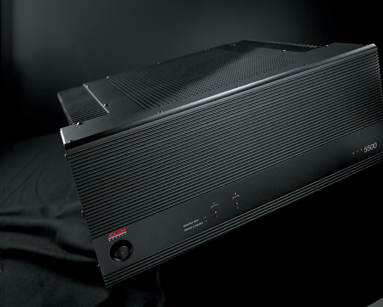 The MOSFET outputs are acknowledged worldwide for their ability to amplify harmonics, musical texture, and extended bass with unequaled accuracy. The circuit design with a larger and quieter toroid power transformer and oversized power supply capacitors, deliver the large amounts of current demanded by low impedance speaker loads.
The pure simplicity of the design helps to keep the damping factor high to maximize speaker control and ensure clear and uncolored sound at all frequencies.
Using single ended Class "A" circuitry in the front end, these amplifiers deliver the warmth and smoothness other amplifiers can only envy. The highest quality circuit boards are another testament to ADCOM's commitment to combining the finest level of components to create outstanding performance.
These amplifiers deliver more power and more current to drive virtually any resistive/capacitive load up to its rated output, giving you amplifiers that are designed to excel under conditions imposed by even the most demanding speakers.
And the most demanding audience. You.
GFA 5400
The GFA 5400 replaces the GFA 545II and offers many of the same design features and sonic attributes of the enthusiastically received GFA 5802 and GFA 5500. The specifications should adequately describe all the pertinent information, including the increased power output into 8 and 4 ohms over the GFA 545II.
As the 4 ohm power indicates, the current capability of the GFA 5400 has been substantially increased. The improvements are clearly audible with virtually all loudspeaker systems and will be appreciated by all who will use multiple 5400s in home theater systems.
Model

Description

Retail Price

GFA-5500

200 watts per channel, 8 ohms 350 watts per channel,
4 ohms MOSFET output circuitry
Tremendous 1.7dB headroom

$1,499
Call for best price

GFA-5400

125watts per channel, 8 ohms 200 watts per channel,
4 ohms MOSFET output circuitry
Tremendous 1.7dB headroom

$1,699
Call for best price
---
You can call us for free from anywhere in the USA!
Our Business Hours are:
Monday - Friday 11am to 7pm Pacific Time
Saturday 12pm to 5pm.
We are closed on Sunday!
---
Last Updated: September 9, 2008
---
---
---
---

1044 Fourth Street, Santa Rosa, CA 95404
Phone/Fax 707-578-4434 or 800-450-HIFI
marcs@sonic.net