Soundscape Product Listing
---

The Latest Advancements from Clear Audio
The Master Reference
The Master Reference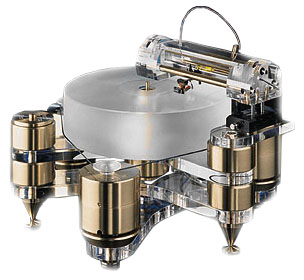 The Master Reference is a small miracle of mechanical science - and yet, it is more than that: to be a true masterpiece, it had to be designed and crafted with true devotion. Beyond beauty and precision engineering, it is something else: passion.
Three stand-alone motors, sychronized with the Accurate Power Generator, ensure extremely low wow and flutter figures. The resonance-minimizing form of the Master Reference ensures absolute mechanical quietness. The precision-turned silicon/acrylic platter rests on an inverted bearing made of bronze and hardened steel, guaranteeing a long and trouble-free life. The Master Reference accepts up to three tonearms at one time.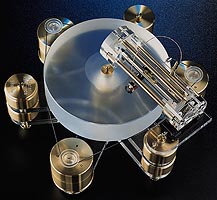 Especially for the Master Reference, Clearaudio has designed a new parallel-tracking tonearm, the Clearaudio Master TQ-I. It is a thorough development of the long-established Clearaudio/Souther TQ-I. Superb mechanical design and precise production provide the foundation for a cohesive, dynamic sound throughout the complete musical spectrum.
The Master Reference sells for $25,000 and comes with the industry leading 10 year warranty. Many arm/table packages are available. Please contact your authorized Clearaudio Reference dealer for more informtion on available packages.
Pictured here with the Clearaudio Master TQ-I tonearm.
Pictured here with the Graham 2.2 tonearm.
The Master Reference Technical Data

Construction principle:

Geometrically, resonance-optimized shape

Speed of rotation:

33 1/3 rpm and 45 rpm

Drive:

Isolated motor, belt drive

Bearing:

Hardened steel, bronze plated, inverted

Platter material:

Acrylic, surface highly polished

Platter height:

80mm

Speed variations:

+/-0.01%

Signal to noise:

88 dB

Weight including motor:

110 lbs, 50 kg. without motors (Motor 11 lbs, 5kg)

Dimensions (W/D/H in mm):

500 x 400 x 240

Manufacturer Warranty:

10 years
Extended Warranty
---
Last Update: May 6, 2004

---

1044 Fourth Street, Santa Rosa, CA 95404
Phone/707-578-4434 or 800-450-HIFI
marcs@sonic.net