Soundscape Product Information
---

UNI-LOK Brand Surround Sound Speaker Mounts...your home theater never sounded so good! Strategically mount your home theater speakers and maximize your listening experience.
These high quality brackets position your speaker above any obstacles to optimize their acoustical performance.
The swivel and tilt features allow for the perfect positioning of your speakers.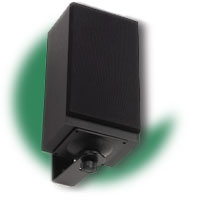 Product Specifications:
Platform base 3.5" x 3.5"

Supports up to 12 lbs.

Ideal for office, bedroom, den or kitchen.

Suitable for a wide variety of speakers including curved fronts.

UNI-LOK rotary locking action for swivel and tilt.

Quality tested by an independent laboratory.

Full color trilingual recycled packaging.
Soundscape Price $59.99*
* Add $9.00 for freight West of the Rockies, excluding HI
*Add $8.00 for freight East of the Rockies, excluding HI
TOLL FREE HELP LINE 1-800-450-4434
---
LIMITED LIFETIME WARRANTY
All Haropa products have been tested by an independent laboratory and carry a Limited lifetime warranty ensuring peace of mind for the consumer.
EASY INSTALLATION
The Haropa line of brackets have been designed for style, strength, and ease of installation. The wall plate allows the brackets to be securely mounted to either studded or solid walls allowing location flexibility.
SPACE AND SAFETY
Haropa products not only save valuable space in the home or office, but keep heavy appliances safely out of reach of children.
Copyright © 1996 HAROPA Products NA
---
CLEARANCE SALE
We now offer 90 Days Same As Cash (SAC) 365 days a year !
Come in and ask us about it.

---
Our Business Hours are:
Monday - Friday 11am to 7pm Pacific Time
Saturday 12pm to 5pm.
We are closed on Sunday!
---
Extended Warranty
---
We accept



over the phone or by E-mail.
---
ORDERING ONLINE
click here!
ORDERING BY PHONE
If there is no authorized dealer in your area you can order directly from Soundscape with a 10-day, satisfaction, money-back guarantee.
US and Canada, 1-800-450-HIFI (1-800-450-4434)
Outside the US and Canada, (707) 578-4434
Monday - Friday 11:00 AM - 7:00 PM (PST)
Fax: (707) 578-4436
---
Last Update: December 26, 2002

---


1044 Fourth Street, Santa Rosa, CA 95404
Phone/707-578-4434 or 800-450-HIFI
marcs@sonic.net