Soundscape Products
---
Pacific Creek

SE300I
Soundscape Price: $2,199.00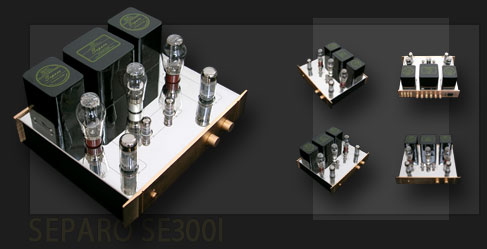 Pacific Creek SE300I is a stereo single-ended 300B integrated amplifier conservatively rated at 10 Watts per channel. Zero global and local negative feedback (NFB) ensures the most detailed reproduction of sound. Without NFB to cover up distortion or other imperfections, all components had to be carefully chosen to achieve the technical specifications below.
SE300I features labor-intensive point-to-point wiring, 5Z3 tube rectifier, double chassis with mirror treated stainless steel surface, and 8 mm (5/16") front and back panels.
Features and Specifications*
Integrated amplifier with CD/TUNER/AUX1/AUX2 inputs
10 Watts r.m.s. per channel
Zero global and local negative feedback Point-to-point wiring
Potted transformers 5Z3P tube rectifier
Choke input filter 5-way binding posts for 4 and 8 Ohms speakers
Total Harmonic Distortion (T.H.D.) @ 1kHz, 8 Ohm:
Less than 1% at 6 Watts
Less than 2 % at 8 Watts
Less than 5% at 10 Watts
Frequency Response***
17Hz - 27kHz (-3 dB)
30Hz ~ 17 kHz (-1 dB)
Background Noise Level: Less than 3.5 mV r.m.s. at 8 Ohms
Tube Complements
300B-98 x 2
6P3 (Russian 6L6) or equivalent x 2
12AU7 x 2
5Z3P x 1

Input Impedance: 47 KOhms
Power Source: 120VAC
Power Consumption: 220 Watts
Dimension: 17" (W) x 15" (D) x 8" (H)
Weight: 68 lbs

* Specifications are typical and subject to change without notice
** Distortion is higher at upper and lower frequencies
---
Reviews, Report and News
---
Pacific Creek, Inc.
P. O. Box 992
Issaquah, WA 98029
Voice: (425) 961-0136 Fax: (425) 557-0700
Website: www.pacificcreek.com
---


Last Updated: February 5, 2007
ORDERING ONLINE
click here!
ORDERING BY PHONE
If there is no authorized dealer in your area you can order directly from Soundscape with a 10-day, satisfaction, money-back guarantee.
US and Canada, 1-800-450-HIFI (1-800-450-4434)
Outside the US and Canada, (707) 578-4434
Monday - Friday 11:00 AM - 7:00 PM (PST)
Fax: (707) 578-4436
---
---

1044 Fourth Street, Santa Rosa, CA 95404
Phone/Fax 707-578-4434 or 800-450-HIFI
marcs@sonic.net