Soundscape Products
---
Pacific Creek

P90I
Soundscape Price: $1,599.00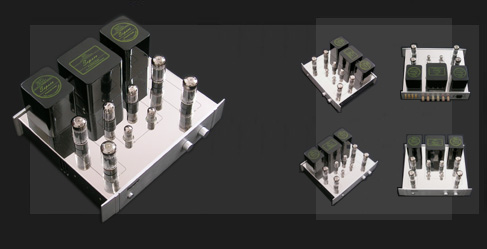 Suceeding the the P34I product line, Pacific Creek P90I is a 50 Watts per channel stereo integrated 6CA7/EL34 push-pull amplifier, operating in "Ultra-Linear" mode, which offers triode like lower distortion and pentode like higher power efficiency. P90I uses a minimum amount of NFB (Negative FeedBack), i.e., 2.5 dB to ensure a warm and detailed reproduction of sound. Without the typically large NFB in a push-pull amplifier to cover up distortion, P90I depends on the clean outputs of good output transformers to achieve the specification below at high power.
The driver stage (6SN7GT) and pre-driver stage (12AU7) of P90I are designed to accept a wide range of tubes from various manufacturers while maintaining optimal bias. This allows the user to fine tune the sonic experience according to his personal taste.
Features and Specifications*
Integrated amplifier with CD/TUNER/AUX1/AUX2 inputs
50 Watts r.m.s. per channel
Potted transformers
Independently adjustable bias (one per tube, four total)**
Ultra Linear Mode Point-to-point wiring (except for the bias control)
Choke loaded filter 5-way binding posts for 4 and 8 Ohms speakers
Total Harmonic Distortion (T.H.D.) @ 1kHz, 8 Ohms:
Less than 1% at 35 Watts
Less than 2% at 45 Watts
Less than 5% at 50 Watts
Frequency Response***
15Hz - 35 kHz (-3 dB)
20Hz - 22 kHz (-1 dB)
Background Noise Level: Less than 3.5 mV r.m.s. at 8 Ohms
Tube Complements Electro-Harmonix 6CA7EH or equivalent x 4 Electro-Harmonix 6SN7EH or equivalent x 2 12AU7 x 2
Input Impedance: 47 KOhms
Power Source: 120VAC
Power Consumption: 220 Watts
Dimension: 17" (W) x 15" (D) x 8" (H)
Weight: 65 lbs

* Specifications are typical and subject to change without notice
** Bias meter (multi-meter) capable of reading 0.5VDC nominal is not supplied
*** Distortion is higher at upper and lower frequencies
Warranty/Return Policy
90 DAY LIMITED WARRANTY Products sold by Pacific Creek or its authorized dealers are covered by a ninety (90) day labor and parts warranty, excluding vacuum tubes. Should your Separo product fail to operate within 90 days from the receipt date, Pacific Creek will repair it at no charge to you. You will, however, be responsible for round trip shipping and insurance. This warranty shall not apply to loss or damage in shipping, accident, unreasonable use, or buyer's negligence. SELLER MAKES NO OTHER WARRANTIES, EXPRESS OR IMPLIED, AND SELLER DISCLAIMS ANY WARRANTY OF ANY OTHER KIND, INCLUDING ANY WARRANTY OF MERCHANTABILITY OR FITNESS FOR A PARTICULAR PURPOSE, EXCEPT IN THOSE JURISDICTIONS THAT PROHIBIT DISCLAIMER OF SUCH IMPLIED WARRANTIES. PLEASE CONSULT YOUR STATE'S LAWS. YOU MAY HAVE RIGHTS IN ADDITION TO THIS WARRANTY.
---
Reviews, Report and News
---
Pacific Creek, Inc.
P. O. Box 992
Issaquah, WA 98029
Voice: (425) 961-0136 Fax: (425) 557-0700
Website: www.pacificcreek.com
---


Last Updated: March 6, 2007
ORDERING ONLINE
click here!
ORDERING BY PHONE
If there is no authorized dealer in your area you can order directly from Soundscape with a 10-day, satisfaction, money-back guarantee.
US and Canada, 1-800-450-HIFI (1-800-450-4434)
Outside the US and Canada, (707) 578-4434
Monday - Friday 11:00 AM - 7:00 PM (PST)
Fax: (707) 578-4436
---
---

1044 Fourth Street, Santa Rosa, CA 95404
Phone/Fax 707-578-4434 or 800-450-HIFI
marcs@sonic.net