Soundscape Product Information
---
Parasound's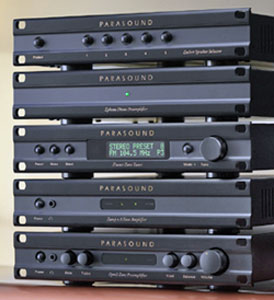 Parasound's Specialty products include our unique line of half width components designed to solve a variety of tough custom installation problems. They're just what you need to finish off that home theater or multi-zone custom installation. Parasound Zcustom The Zcustom is our product line that provides a full measure of high-end performance in components that are extremely compact.
Zcustom: Z because they are often used for multiple zones. Custom because their diminutive size solves space problems in custom installations, and anywhere space is at a premium. The current Zcustom models are second and third generation refinements of some of the industry's most popular products, proving once again that great things sometimes come in small packages.
---
You can call us for free from anywhere in the USA!
Our Business Hours are:
Monday - Friday 11am to 7pm Pacific Time
Saturday 12pm to 5pm.
We are closed on Sunday!
---
Last Updated: February 16, 2006
---

---
---
---

1044 Fourth Street, Santa Rosa, CA 95404
Phone/Fax 707-578-4434 or 800-450-HIFI
marcs@sonic.net