Marc Silver & Soundscape Profile
---
Soundscape, Gallery of Unique Audio + Video + Art
Reopened September 1, 1993
Location: 1044 4th Street, Santa Rosa, CA 95404
Phone: (707) 578-4434 Hours: M-F 11-7 Sat 12-5 Sun. by appointment.
---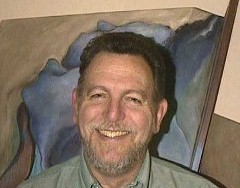 Marc Silver, Owner of Soundscape
Managed California HiFi Warehouse 1972-1974. (CHFW changed name in 1976 to Circuit City).
Founded Northridge Audio Centre, Northridge, CA in 1974. Initial Investment $4,200.
Northridge Audio's gross sales by the end of 1987 approximated $1,000,000.00 plus.
Created Inwall Systems -- Consulting and Engineering Company, April 1988.
New Soundscape opened September 1993.
Established Soundscape Web-Page on World Wide Web 1995.
Soundscape moved on September 1, 2001 into it's new 13,600 square foot building, making us the largest independent Audio/Video/HiFi dealer in the Western part of the USA.
Marc is certified as an Audio/Video Consultant by SAC (The Society of Audio/Video Consultants) 1974.
Member of PARA (Professional Audio Retailers of America).
Licensed as a C-7 Sound Contractor by the State of California, Lic. #606648.
Marc has appeared on Radio, Television, and has published numerous articles on Home Electronics.
Published in various newspapers & magazines including: LA Daily News, Orange County Register, Orange County Pilot, Custom Home Electronics Magazine and California Builder Magazine.
---
Market Approach
Soundscape is an upscale gallery representing the finest in Audio/Video equipment as well as displaying Fine Art from local and nationally recognized artists. The intent of the gallery is to work with Designers and Architects on the design, sale and installation of consumer electronics, home theater and home automation equipment. The association with the upscale market lends itself well to the addition of fine art which particularly appeals to the sophisticated consumer. It also allows designer/decorators to work with a committed design professional sympathetic to their requirements in satisfying their clients decorating needs.
---
Market Competition:

Main Sound Room
Soundscape is the only operation of its kind in the United States, combining Fine Art with Home Electronics. Sonoma County had only one Upscale Audio/Video Specialist, until now. Previously the majority of Upscale Audio/Video buyers have been forced to travel over 75 miles to San Francisco or the Berkeley in the East Bay for any selection of products.

Know anyone looking for a B&O Display?
Ours is for sale.
---
CLEARANCE SALE
We now offer 90 Days Same As Cash (SAC) 365 days a year !
Come in and ask us about it.

---
Our Business Hours are:
Monday - Friday 11am to 7pm Pacific Time
Saturday 12pm to 5pm.
We are closed on Sunday!
---
Extended Warranty
---
We accept



over the phone or by E-mail.
---
ORDERING ONLINE
click here!
ORDERING BY PHONE
If there is no authorized dealer in your area you can order directly from Soundscape with a 10-day, satisfaction, money-back guarantee.
US and Canada, 1-800-450-HIFI (1-800-450-4434)
Outside the US and Canada, (707) 578-4434
Monday - Friday 11:00 AM - 7:00 PM (PST)
Fax: (707) 578-4436
---
Last Update: June 13, 2002

---


1044 Fourth Street, Santa Rosa, CA 95404
Phone/Fax 707-578-4434 or 800-450-HIFI
marcs@sonic.net