Soundscape Product Listing
---

Speakers
---
Now in on display at Soundscape:
The NEW Usher BE-10!
Plus the Dancer CP-8571 II
and all these fine Usher models
| | | | |
| --- | --- | --- | --- |
| CP-6311 | CP6371 | X-616 | CD-1 |
| S-520 | S-525 | X-718 | P-307 |
| V-601 | V-602 | V-604 | R1.5 |
---
USHER X-Series Speakers
---
X-929
Soundscape Price:$2490/pair.
SPECS:
2 Way --1" Tweeter -- 2 x 7" Mid-Bass

Sensitivity:90dB 1watt/1m

Frequency response(-3dB):29Hz~28kHz

Crossover frequencies:2kHz

Weight: 43.5kg each, 96lbs each

Dimensions(wxdxh):28.5cmx39cmx117cm
---
X-719
Soundscape Price:$1350/pair in Matt Black, Matt Silver, Matt White or Matt Pearl with Birch or Walnut Side Panels.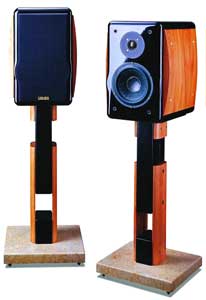 While the X-Series speakers are truthful to the Usher traditon very fairly priced, the engineering efforts put into their development are second to none. In order to attain the best possible results and not satisfied with what's available on the market, Usher developed the drivers used on the X-Series from scratch, and also set up dedicated production lines to manufacture them, to ensure total control of the quality.
The X-719 is a 2-way system which offers the listener the kind of low frequency reproduction normally only associated with much bigger, 3-way systems. Its cabinet incorporates thick walls and interlocked braces that reduce cabinet coloration to minimum response. This combined with its correctly executed cabinet/port design, extended low frequency response is achieved with ease and authority. The X-719 is supplied in mirror-imaged pairs and with separate tweeter and bass inputs for bi- amping or bi-wiring applications for optimum performance. A dedicated wood/stone speaker stand is available as an option to provide solid support and adjustable listening height.
Tweeter At the heart of the Usher tweeter is a 28 mm diaphragm made of proprietary coated silk, driven in a magnet system of optimal configuration. A rear chamber situated behind the vented pole further reduces the internal resonance. As a result the tweeter is capable of reaching down much lower in frequency and relives the bass/midrange unit of the lower high frequencies that are usually the culprit for low definition. The durability of USHER speakers is legendary. The tweeter incorporates a moderate-viscosity magnetic fluid that helps heat dissipation and improves mechanical linearity, meanwhile damping undesired resonances and providing excellent low-level resolution. The tweeter is one of the best available today, regardless of price. It smoothness, finesse, precision and transparency are simply peerless.
SPECS:
2 Way --1" Tweeter -- 1 x 7" Mid-Bass

Sensitivity:88dB 1watt/1m

Frequency response (-3dB): 38Hz~20kHz

Crossover frequencies: 2.0Hz

Weight : 38lbs Each

Dimensions(wxdxh): 27cm x 41cm x 40cm

All X Series speakers now come in four fabulos high gloss colors!
---
X-718
Soundscape Price:$1300/pair in Matt Black, Matt Silver, Matt White or Matt Pearl with Birch or Walnut Side Panels.
USHER high definition bass/mid driver features a heavily damped and carbon fiber impregnated paper cone that dampens resonances normally associated with stiff cones. The big, heavy magnet system that eliminates modulation as well as lowering clipping distortion. A new type of rubber surround combines progressive spider coated as the voice coil exceeds its maximum linear excursion. The bass/midrange units have set entirely new standards for sound reproduction, with compression and distortion figures only a fraction of those for conventional units. The reason: copper rings along with the massive aluminium phase plug, improve the response time of the unit and make it more linear. As well USHER's thermally stable voice coil will withstand hours and hours of music pleasure while providing a much greater dynamics, higher precision and exceptionally powerful bass..
The X-718 uses the same tweeter as that on the X-719 and a new paper cone 7-inch bass/mid driver. Its unparalleled front baffle and back panel provide time-alignment placement of the drivers and also eliminate unwanted cabinet resonances. The X-718 is a high performance compact monitor for critical listening. It provides precise imaging, transparency, and tonal accuracy exceeding what many larger, more expensive systems are capable of.
SPECS:
2 Way --1" Tweeter -- 1x 7" Mid-Bass -- 1 x 8" Low Bass

Sensitivity:87dB 1watt/1m

Frequency response (-3dB): 42Hz~20kHz

Crossover frequencies: 2.05Hz

Weight : 28lbs Each

Dimensions(wxdxh): 26cm x 35cm x 39cm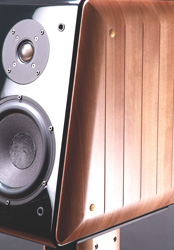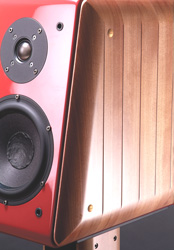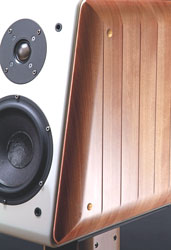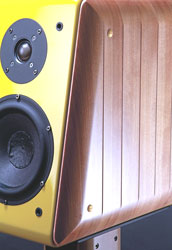 Availalbe Special Order Colors
---
X-708
Soundscape Price:$1260/pair in Matt Black, Matt Silver, Matt White or Matt Pearl with Birch or Walnut Side Panels.
X-708 speaker.
Extended, flat frequency response and high output from a small enclosure: The X-708 has the same basic design and virtues as the X-718. In most listening rooms, its usable bass extends to 50Hz with surprising dynamism and weight. In contrast to many small monitors, the X-708 has a large woofer that can move substantial amount of air and produce high output, while remaining remarkably smooth, free of coloration and natural in the all important midrange. Treble is open, detailed, and airy without any trace of harshness. Transient accuracy and coherence are exemplary.
The Enclosure
As is the case with every X-series speaker, the X-708 cabinet is constructed of thick MDF boards with extensive internal bracing for optimal resonance control. The front baffle, with its rounded edges, reduces diffraction and edge reflection to a negligible level. The result is extremely low coloration and impressive micro dynamics unheard of before on loudspeakers of this size.
The Crossover network
The X-series loudspeaker employs a high order crossover network, each individually optimized for best on and off axis system responses. The crossover is constructed using carefully selected and matched components for superlative performance with the lowest coloration and distortion.
SPECS:
2 Way --1" Tweeter -- 1x 7" Mid-Bass -- 1 x 8" Low Bass

Sensitivity:87dB 1watt/1m

Frequency Response (-3dB): 42Hz~20kHz

Crossover Frequencies: 2.05Hz

Weight : 28lbs Each

Dimensions(wxdxh): 26cm x 35cm x 39cm
---
X-616
Soundscape Price: $1000/each in High Gloss Black, High Gloss Silver, or High Gloss White with Birch Side Panels.
The X-616 center channel speaker is a beautiful sonic match for both the X-Series and
CP-Series speakers and was designed to esthetically accompany the latest 6-Series with the same high quality build qualities.
SPECS:
---
SW-103
Soundscape Price:$800/each in Gloss Black
Soundscape Price:$750/each in Birch.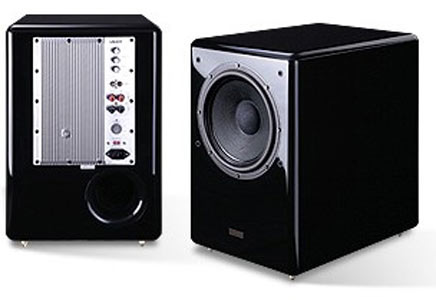 The latest addition to the line is the long awaited SW-103. As musical a subwoofer as you'd expect form Usher.
SPECS:
Frequency response: 25 Hz - 180 Hz (-3dB)

Dimensions: 41cm x 56cm x 57cm (w) (d) (h)
---
Our Business Hours are:
Monday - Friday 11am to 7pm Pacific Time
Saturday 12pm to 5pm.
We are closed on Sunday!
---
We accept



over the phone or by E-mail.
---
ORDERING ONLINE
click here!
ORDERING BY PHONE
If there is no authorized dealer in your area you can order directly from Soundscape with a 10-day, satisfaction, money-back guarantee.
US and Canada, 1-800-450-HIFI (1-800-450-4434)
Outside the US and Canada, (707) 578-4434
Monday - Friday 11:00 AM - 7:00 PM (PST)
Fax: (707) 578-4436
---
EXTENDED WARRANTY INFORMATION
---
CLEARANCE SALE
We now offer 90 Days Same As Cash (SAC) 365 days a year !
Come in and ask us about it.

---
Last Update: April 18, 2007
---


1044 Fourth Street, Santa Rosa, CA 95404
Phone/707-578-4434 or 800-450-HIFI
marcs@sonic.net