Soundscape Product Listing
---
Lovan Racks and Stands


THE NEW AFFINITI PRO SERIES
Audio and video racks by Lovan have been designed to combine visual appeal with superior performance. The simplicity and elegance of Affiniti's clean lines complements both traditional and contemporary decor. Created to minimize vibration, the Affiniti Pro Series provides a stable platform for your home entertainment system which is certain to improve performance. Combining the finest materials, hand craftsmanship, and affordable pricing, the Affiniti Pro Series represents the ultimate value in audio/video furniture.
Materials: High mass steel 1.5" diameter round tubing, hardened steel chrome plated spikes and New Zealand Pine MDF shelves.
Finish: Heat fused epoxy powder coated "Durian" scratch resistant finish on all tubing. Hand painted furniture grade satin epoxy finish on all shelves.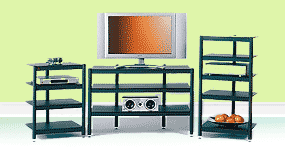 Model

Height

Width

Depth

Internal Clearance from floor

Internal Clearance 1st

Internal Clearance 2nd

Internal Clearance 3rd

Internal Clearance 4th
Width

Depth

Retail Price

Soundscape
Price

AFF-PAVR

24.5"

44"

19.25"

2.25"

9.5"

7.8"

-

-

41"

22"

$269.99

$373.99 + Frt.

AFF-4BB-HF36

35.75"

22.25"

19.25"

2.25"

11.5"

7"

7"

-

22.25"

20"

$259.99

$189.99 + Frt.

AFF-4BB-HF54

44.75

22.25"

19.25"

2.25"

11.5"

7"

7"

7"

19.25"

20"

$329.99

$229.99 + Frt.
---

---
ORDERING BY PHONE
If there is no authorized dealer in your area you can order directly from Soundscape with a 10-day, satisfaction, money-back guarantee.
US and Canada, 1-800-450-HIFI (1-800-450-4434)
Outside the US and Canada, (707) 578-4434
Monday - Friday 11:00 AM - 7:00 PM (PST)
Fax: (707) 578-4436
---
Last Update: February 24, 2006
---

1044 Fourth Street, Santa Rosa, CA 95404
Phone/Fax 707-578-4434 or 800-450-HIFI
marcs@sonic.net