Soundscape Product Listing
---

For the Ultimate in Affordable Thater Seating for your home.

---

Lovan Racks and Stands

---
Lovan furniture features a unique patented "Trisolation System" which provides electronic components with superior isolation from sound vibration. All Lovan products are constructed of high mass steel with durable heat fused epoxy powder finished for exceptional stability. Additionally, each cap is carefully fabricated and plated for a beautiful and lustrous finished.

Lovan is currently appreciated by consumers all over the world for its styles. In addition to its beauty, there are many functional advantages in owning Lovan products. Each modular shelf is available in different heights and the consumer can customize his/her own audio video support system. Additional shelves may be added as the consumer's system grows. Lovan audio/video racks portray timeless elegance in traditional as well as in contemporary settings.
---

Lovan's stands come in a variety of sizes and can be ordered with round or rectangular uprights in solo, trio or quintet configurations - all uprights can be sand or shot filled - triangular or square bases- similar to Target's top-of-the-line high mass stands or Sanus Reference Foundations, but better priced!
---
LOVAN STANDS = FORM IS FUNCTION
LOVAN STANDS COMBINE FORM AND FUNCTION TO CREATE UNIQUE PRODUCTS THAT ARE AS EXCITING TO LISTEN TO AS THEY ARE TO BEHOLD. THEIR PATENTED MODULAR "TRISOLATION' SYSTEM PROVIDES THEIR RACKS WITH SUPERIOR ISOLATION AND EXCEPTIONAL STABILITY.
---
LOVAN INCORPORATES ONLY THE FINEST MATERIALS IN ALL LOVAN DESIGNS TO INSURE THE HIGHEST LEVEL OF PERFORMANCE AND LASTING BEAUTY.
THEIR METAL TUBING IS MADE FROM FIRST QUALITY HIGH CARBON STEEL, WITH A DURABLE HEAT FUSED EPOXY POWDER COATED FINISH. ALL SHELVES ARE FABRICATED FROM SOLID NEW ZEALAND LAKE PINE MDF, CAREFULLY CHOSEN FOR ITS SUPERIOR SONIC QUALITIES. VIBRATION IS EFFECTIVELY DIMINISHED THROUGH THE STRATEGIC USE OF ADJUSTABLE HARDENED STEEL CHROME PLATED SPIKES, AND SPECIAL POLYMER EVA PADS. FURTHER DAMPING CAN BE ACHIEVED BY FILLING THE TUBING WITH LEAD SHOT OR SAND. EVEN THEIR GOLD ACCENTS ARE ALL 100% GENUINE 18 KARAT GOLD ELECTROPLATE.
---
A stylish modular audio and video system that is sturdy and versatile enough to accommodate any system and compliment any home décor. The 2" steel tubing is finished in black epoxy powder and can be joined with other shelves by Lovan's uniquely designed stainless steel connectors. The extra thick curved shelves are available in black or wild cherry wood finishes. The base comes equipped with adjustable steel isolation points to minimize sound vibration. Infinite number of configurations!
---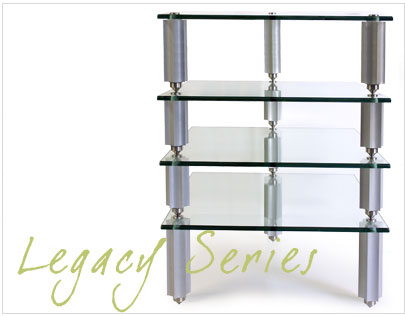 ---

With its titanium-colored finish and striking design, the Matrix is the perfect compliment to today's popular TVs and plasma displays. The Matrix also features 2" tubling and 3/4" - thick MDF shelves in light-cherry finish.
---

The Accent AV rack is simple and fun. The posts (legs) with the retangular shape adds the 'accent' to the rack.
---

Sister to the Millennium series, the Odyssey series will continue the portrayal of timeless elegance and simple lines.
Available in Cherry Wood or Piano Black finish posts.
---
Iinstallers Rejoice! Finally, an afforadable custom installation rack:


Pulls out and rotates 180° (degress)
Scratch resistant 3/4" MDF adjustable shelving
Open design allowing ventilation
Threaded inserts to prevent screws from stripping out
Slotted shelf rails to eliminate tedious chore of leveling or adjusting
Rack and shelf mountable
---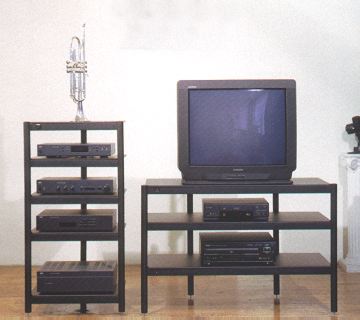 The Affiniti Series is the most affordable in the Lovan line.
Affiniti stands offer sturdy metal frames, bolted together for rigidity.
---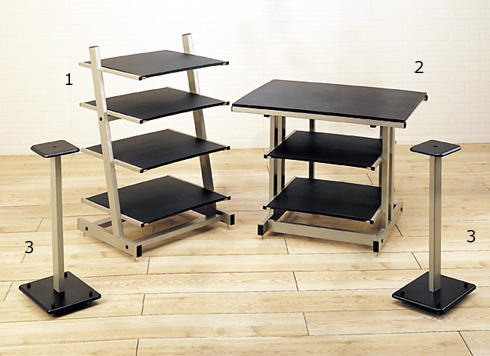 ---
Lovan offers a wide selection of speaker stands to choose from. The following descriptions should help you decide which Lovan product will best suit your needs.

The Jazz Series offers high performance for larger speakers and subwoofers.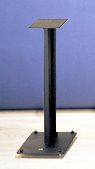 The Affiniti Series is one of our most affordable in the Lovan Line. Affiniti stands offer sturdy metal frames, bolted together for rigidity
We now offer 90 Days Same As Cash (SAC) 365 days a year !
Come in and ask us about it.

---
Our Business Hours are:
Monday - Friday 11am to 7pm Pacific Time
Saturday 12pm to 5pm.
We are closed on Sunday!
---
Extended Warranty
---
We accept



over the phone or by E-mail.
---
ORDERING ONLINE
click here!
ORDERING BY PHONE
If there is no authorized dealer in your area you can order directly from Soundscape with a 10-day, satisfaction, money-back guarantee.
US and Canada, 1-800-450-HIFI (1-800-450-4434)
Outside the US and Canada, (707) 578-4434
Monday - Friday 11:00 AM - 7:00 PM (PST)
Fax: (707) 578-4436
---
Last Update: April 10, 2006

---


1044 Fourth Street, Santa Rosa, CA 95404
Phone/Fax 707-578-4434 or 800-450-HIFI
marcs@sonic.net