Soundscape Product Listing
---
Lovan Stands

---
Lovan furniture features a unique patented "Trisolation System" which provides electronic components with superior isolation from sound vibration. All Lovan products are constructed of high mass steel with durable heat fused epoxy powder finished for exceptional stability. Additionally, each cap is carefully fabricated and plated for a beautiful and lustrous finished.

Lovan is currently appreciated by consumers all over the world for its styles. In addition to its beauty, there are many functional advantages in owning Lovan products. Each modular shelf is available in different heights and the consumer can customize his/her own audio video support system. Additional shelves may be added as the consumer's system grows. Lovan audio/video racks portray timeless elegance in traditional as well as in contemporary settings.
---
Lovan's stands come in a variety of sizes and can be ordered with round or rectangular uprights in solo, trio or quintet configurations - all uprights can be sand or shot filled - triangular or square bases- similar to Target's top-of-the-line high mass stands or Sanus Reference Foundations, but better priced!
---
LOVAN INCORPORATES ONLY THE FINEST MATERIALS IN ALL LOVAN DESIGNS TO INSURE THE HIGHEST LEVEL OF PERFORMANCE AND LASTING BEAUTY.
THEIR METAL TUBING IS MADE FROM FIRST QUALITY HIGH CARBON STEEL, WITH A DURABLE HEAT FUSED EPOXY POWDER COATED FINISH. ALL SHELVES ARE FABRICATED FROM SOLID NEW ZEALAND LAKE PINE MDF, CAREFULLY CHOSEN FOR ITS SUPERIOR SONIC QUALITIES. VIBRATION IS EFFECTIVELY DIMINISHED THROUGH THE STRATEGIC USE OF ADJUSTABLE HARDENED STEEL CHROME PLATED SPIKES, AND SPECIAL POLYMER EVA PADS. FURTHER DAMPING CAN BE ACHIEVED BY FILLING THE TUBING WITH LEAD SHOT OR SAND. EVEN THEIR GOLD ACCENTS ARE ALL 100% GENUINE 18 KARAT GOLD ELECTROPLATE.
---
Affiniti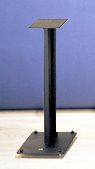 THE AFFINITI PRO SERIES
speaker stands by Lovan have been designed to combine visual appeal with superior performance. The simplicity and elegance of Affiniti's clean lines complements both traditional and contemporary decor. By simply rotating the two vertical supports, 3 different looks can be achieved. Created to minimize vibration, the Affiniti Pro Series provides a stable platform for your loudspeakers which is certain to improve performance. Combining the finest materials, hand craftsmanship, and affordable pricing, the Affiniti Pro Series represents the ultimate value in speaker stands.
| | | | |
| --- | --- | --- | --- |
| Model | Speaker Stand Description | List Price | Sale Price |
| AF2-BB-6724 | Affiniti 2 2400 | $119.99 | $95.99 |
| AF2-BB-6729 | Affiniti 2 2900 | $119.99 | $95.99 |
| AF2-PP-6724 | Affiniti 2 2400 | $179.99 | $139.99 |
| AF2-PP-6729 | Affiniti 2 2900 | $179.99 | $139.99 |
Freight and insurance is extra!
---

JAZZ SPEAKER STANDS
THE JAZZ SERIES SPEAKER STANDS COMBINE HIGH RIGIDITY AND EXEMPLARY ISOLATION WITH A LIGHT CONTEMPORARY PROFILE. THE JAZZ 600 IS THE SPEAKER STAND OF CHOICE TO DECOUPLE SUBWOOFERS AND FREE STANDING SPEAKERS FROM UNWANTED FLOOR RESONANCES.
IT'S LOW SILHOUETTE IS DESIGNED TO VISUALLY HarmanIZE WITH PRACTICALLY ANY LARGE, FULL-RANGE LOUDSPEAKER AND SUBSTANTIALLY IMPROVE ITS SONIC CHARACTERISTICS. THE JAZZ 1800 BEING THE TALLER OF THE JAZZ SERIES STANDS, WILL IMPART THE SAME BENEFITS TO MEDIUM AND LARGE SIZE BOOKSHELF SPEAKERS.
| | | | |
| --- | --- | --- | --- |
| Model | Description | List Price | Sale Price |
| JA3BB-966 | Jazz 6" | $179.99/pair | $139.99/pair |
| JA3BB-9618 | Jazz 18" | $179.99/pair | $139.99/pair |
Freight and insurance is extra!
---
ACC-CTRD Center Director a LOVAN exclusive, our adjustable center "Director" will make a dramatic difference in the performance of your home theater system. Placed beneath your center channel speaker, the director effectively decouples it from your direct view television or rear projection set. Adjusting the director's rear spikes will enable you to vertically "aim" the center channel speaker's sweet spot directly at your favorite position. The resulting increase in clarity, detail and naturalness will be a startling revelation.
---
ACCESSORIES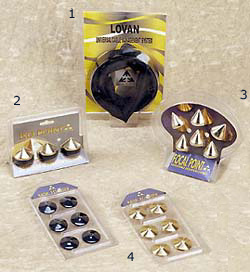 ISO Points the ultimate in isolation feet, incorporate our dual damping system. Employing two different materials, they are perfect for situations precluding the use of a Trisolator.

Focal Points are unique in offering adjustable height. This makes them perfect for turntables, CD players, or any component that performs optimally when level.

Footers-Available in Black or Gold are used to protect vulnerable surfaces from spikes, cones or other sharp devices.
| | | | |
| --- | --- | --- | --- |
| Model | Description | List Price | List Price |
| ACC-FTB | Footers-black (6/pack) | $ 27.50 /pack | $ 25.49/pack |
| ACC-FTG | Footers-gold (6/pack) | $ 27.50 /pack | $ 25.49/pack |
| ACCB-FOPT | Focal Points Black (5/pack) | $ 85.99/pack | $70.49/pack |
| ACCG-FOPT | Focal Points Gold (5/pack) | $ 85.99/pack | $70.49/pack |
| ACC-CMSB | Cable Management System 100 Bulk order | $385.99 | $350.99 |
| ACC-CTRD | Center Director (Adjustable Center Channel Speaker Stand) | $44.99 each | $49.99 each |
Freight and insurance is extra!
---

---
ORDERING BY PHONE
If there is no authorized dealer in your area you can order directly from Soundscape with a 10-day, satisfaction, money-back guarantee.
US and Canada, 1-800-450-HIFI (1-800-450-4434)
Outside the US and Canada, (707) 578-4434
Monday - Friday 11:00 AM - 7:00 PM (PST)
Fax: (707) 578-4436
---
Last Update: April 10, 2006
---

1044 Fourth Street, Santa Rosa, CA 95404
Phone/Fax 707-578-4434 or 800-450-HIFI
marcs@sonic.net