Soundscape Product Information
---
Parasound
Model 7100 7.1 Channel Surround Controller
Introducing the THX Ultra2 certified Model 7100 Surround Controller, the heart and brains of our NewClassic line. It delivers state-of-the-art 7.1 channel performance and superior sound with both movies and music. A wide array of useful system control and integration features make it a dream to set up and operate. An abundance of inputs assures its compatibility with new components you might add to your home theater in the future.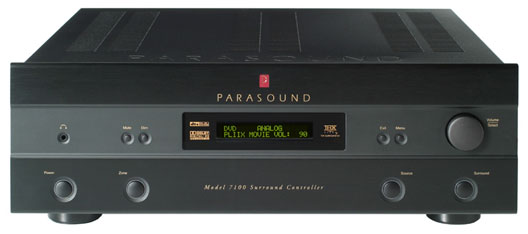 The Model 7100 supports every major surround sound format, including Dolby Digital EX, DTS-ES and DTS 96/24. Multichannel and stereo soundtracks are processed for optimum quality with any speaker arrangement using Dolby ProLogic IIx, DTS Neo:6 and the full suite of THX Ultra2 processing modes, including THX Surround EX, THX Ultra2 Cinema, THX Ultra2 Music, and THX Games modes. Five unique and highly effective Parasound surround modes expand two channel sources into 7.1 channels for particular listening preferences.
Parasound has a long history of dedication to superlative overall quality. The Model 7100's quality of sound, quality of performance and quality of construction will bring you listening pleasure for many years to come. Parasound quality is matched with our legendary reliability. When you purchase the Model 7100 from an Authorized Parasound Dealer or Authorized Reseller, it is protected by Parasound's exclusive 10 year parts, 5 year labor warranty.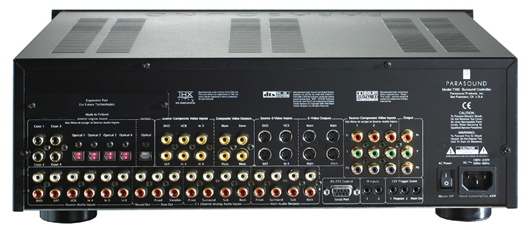 Function:
• 7.1 analog input includes bass management
• DSP engine with Motorola 56367-7 supports all major formats
• Full suite of THX Ultra2 processing modes and features
• Multiple Wolfson WM8770 codecs used for signal conversion
• Volume and level trim accomplished in the analog domain
• Patented analog / digital hybrid bass management system
• Enhanced Bass setting routes bass to sub with full range speakers
• (5) assignable customized Presets
• Presets contain bass & treble adjustments, center, surround & subwoofer trim, AV sync delay or "lipsync" adjustments
• Adjustable Bass, Treble and reverb for music surround modes
• Customizable input names
• 1/8" (3.5mm) stereo headphone jack with auto downmixing
Model 7100 includes a custom version of the powerful URC-100 universal and learning remote control. Its buttons are back-lit so you actually see them in a darkened theater room. It controls the main and remote zones for the
Model 7100 and up to six other components in your home theater system.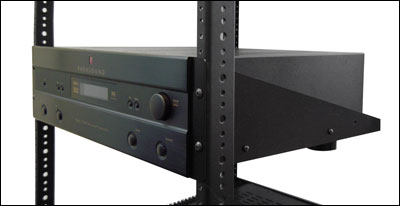 Inputs
: • (4) Coaxial Digital Audio Inputs (assignable to Multiple Sources)
• (4) Toslink Digital Audio Inputs (assignable to Multiple Sources)
• (6) Specific Stereo Analog Audio Inputs
• (4) Digital Audio and Video Inputs (inputs 7-10)
• 7.1 Channel Analog Inputs with analog bass management
• (3) Component Video/High Definition (up to 1080i) Inputs, assignable to any source
• (4) S-Video Inputs, assignable to any source
• (6) Composite Video Inputs, assignable to any source
• Video Signals including OSD are up-converted to component
• Two-Way RS-232 port for home automation control
• Two External IR remote control repeater inputs
• Three 12V Triggers for external control; two are programmable
Outputs :
• 7.1 Main Analog output
• (1) Main Component Video Output
• (4) Main S-Video Output
• (3) Main Composite Video Outputs
• (1) Optical Digital Audio Output
• Fixed and Variable Audio Zone Outputs
• (1) Composite Video Zone Output
• Audio Record Output
• (W x D x H): 17.25" x 16" x 5.875" / 5.25" without feet
Expansion Slot:
• HDMI jacks and switcher for three sources (under development)
Dimensions:
• 3u chassis; RMK33 rack mount kit available
• (W x D x H): 17.25" x 16" x 5.875" / 5.25" without feet
Click here to download the Model 7100 Owner's Guide and to see complete specifications
---
Old Pre-amp Reviews
| | | | |
| --- | --- | --- | --- |
| Product | Publication | Date | Author |
| P/LD-2000 | Audio | 5/96 | Bascom King |
| P/SP-1000 | Stereophile Guide to Home Theater | Winter 95 | Lawrence B. Johnson |
| P/SP-1000 | Stereophile Guide to Home Theater | Fall 94 | Daniel Kumin |
| P/SP-1000 | Home Theater Technology | 7/95 | Bob Sireno |
| P/SP-1000 | Positive Feedback | (Vol 6 #3) Spring 96 | Bob Sireno |
| P/SP-1000 | A/V Shopper | 10/96 | Tony Chiarella |
| P/SP-1500 | Stereophile Guide to Home Theater | Summer 97 | Robert Deutsch |
---
You can call us for free from anywhere in the USA!
Our Business Hours are:
Monday - Friday 11am to 7pm Pacific Time
Saturday 12pm to 5pm.
We are closed on Sunday!
---
Updated: January 2, 2002
---
---
---
---

1044 Fourth Street, Santa Rosa, CA 95404
Phone/Fax 707-578-4434 or 800-450-HIFI
marcs@sonic.net