Soundscape Product Listing
---

PARASOUND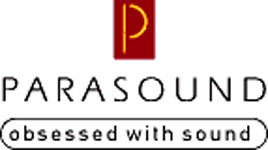 ---
We are proud to represent the famous San Francisco based best-value-for-the-dollar Hi-End electronics line from Parasound. We concur with "Stereophile Magazine" and for that matter the entire Audiophile Press when they call Parasound "One of the Best Value" electronics lines available anywhere in the world. Our purpose is to make available Parasound to our little corner of the world deprived of this truly GREAT line of equipment.
If you live in Northern California then we are your logical choice.
---
A Word of Caution to Our Customers
This is a link to Parasound, and includes a partial list of Bandit Dealers. Parasound is working to expand this list as more are uncovered. If you have any questions as to who is an authorized Parasound dealer contact them at 1-888-888-5115!
---
Audio and Home Theater Components
Remarkable engineering. Unsurpassed clarity. Exceptional value. Parasound high-current amplifiers combine innovative circuit design and audiophile-grade components for unparalleled high-fidelity sound. Whether you need a channel amp for your listening room, or a multi-channels for your home theater, media room, or remote zone, there is a Parasound amplifier that will provide a strong, high current foundation that can drive any speaker.
All Parasound amplifiers employ independent power supplies for each channel, fully complementary class A/AB-1 circuit topology with JFET input transistors, high current/high speed output transistors, direct DC servo control, and rear panel gain controls. Gold-plated 5 way binding posts, Tiffany-style RCA jacks and rack mounting are standard on all models.
---
Parasound's 10-year Limited Warranty
Parasound proudly announces a new 10-year limited warranty on all electronic components and indoor speakers purchased after January 1, 1998. Parasound products have always been known for their superb craftsmanship and reliability, and now our warranty reflects it. The new warranty covers electronic components for 10 years and labor for 5 years. In-wall and ceiling speakers are covered for 10 years parts and labor. Outdoor speakers are covered for 5 years parts and labor. Mechanical parts and lasers are covered for 2 years.
---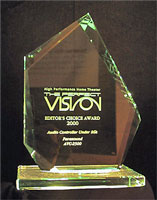 The Perfect Vision's Editors' Choice Awards for 2000 Audio Controller Under $6,000
Old Models
Product Brochure PDfs
For a complete list of owners manuals for new and old Parasound models- Click Here!
---
You can call us for free from anywhere in the USA!
Our Business Hours are:
Monday - Friday 11am to 7pm Pacific Time
Saturday 12pm to 5pm.
We are closed on Sunday!
---
CLEARANCE SALE
We now offer 90 Days Same As Cash (SAC) 365 days a year !
Come in and ask us about it.

---
Our Business Hours are:
Monday - Friday 11am to 7pm Pacific Time
Saturday 12pm to 5pm.
We are closed on Sunday!
---
Extended Warranty
---
We accept



over the phone or by E-mail.
---
ORDERING ONLINE
click here!
ORDERING BY PHONE
If there is no authorized dealer in your area you can order directly from Soundscape with a 10-day, satisfaction, money-back guarantee.
US and Canada, 1-800-450-HIFI (1-800-450-4434)
Outside the US and Canada, (707) 578-4434
Monday - Friday 11:00 AM - 7:00 PM (PST)
Fax: (707) 578-4436
---
Last Update: February 27, 2006

---


1044 Fourth Street, Santa Rosa, CA 95404
Phone/Fax 707-578-4434 or 800-450-HIFI
marcs@sonic.net