Soundscape Product Information
---
Parasound
Halo C 1 7.1 Channel Surround Controller
PARASOUND: Since 1981 our name has been synonymous with rock-solid reliability, amazing sound quality and unequaled value. Building on this reputation we have created an ambitious new line of components, HALO by Parasound. This exciting series brings you the highest level of refinement, performance, and distinctive design.
Halo components have earned the highest praise from top magazine reviewers and critics across the globe. The striking industrial design of these products was given the prestigious Good Design Award from the Chicago Athenaeum, and our remarkable JC 1 power amplifier was crowned Amplifier of the Year by Stereophile magazine - a significant honor which until now was bestowed only upon products at vastly higher prices.

REVIEWS
"The Halo C 1 displays an extraordinary attention to detail..." "...if you want to roll your own high-end home theater system without outside assistance, the C 1 might be your best bet." "It deserves consideration for a large home theater by virtue of those programmable outputs, which have the potential to produce a sonic experience unmatchable...by most other equipment of any kind." "These programmable auxiliary outputs might be just the thing for a really big listening room with more than just six satellites and one subwoofer available." - David Ranada
Home Cinema Choice (UK), October 2004 "The processor offers enveloping surround sound processing, and the power amplifier (A 51) is muscular." "It avoids the edgy, electrical patina of some processors Iíve heard, and has a warmth, scale and liveliness which provide their own rewards." "The Halo C 1ís processorís TFT screen is a blessing... "Five Stars - Alvin
Gold Home Theater, September 2004 Whatís the one piece of gear currently in your system that you canít live without? "Parasoundís Halo processor allows the signal to pass through virtually unfettered: The highs are sweet and clear, without sounding etched; the mids are full and rich, giving body and weight to midrange spectra; and bass is crisp and tight. The Halo has improved the manner in which I evaluate other gear; itís indispensable for its neutrality." - Jerry Kindella, Contributor
Audio (Poland), August 2004 "The C 1 and A 52 is the most powerful control and amplification center for Home Theater you can ever imagine for this price." "The transparency of the sound, its precision is outstanding." "The C 1 capabilities are hard to describe, because there are so many things you can control and it is so easy that even non-professionals can easily configure your home theater system." "In summary, we can say that it is very hard to imagine any competitive devices with the same outstanding capabilities and sound reproduction." - Wojciech Pacula
Home Entertainment and Design, May 2004 Featured component in Surround Sound on Steroids article. "With its automatic setup capability, its professional-style BNC video connections and XLR audio connections, and its front LCD screen, Parasound's Halo C 1 must be considered a state-of-the-art surround-sound processor." "The vessel that takes me where few home theater fans have gone before is Parasound Products' Halo C 1 surround-sound preamp/processor." "The music fills my room like never before. It's enveloping, addictive." "...Parasound's C 1 surround-sound processor can give you a taste of what lies beyond 7.1." - Brent Butterworth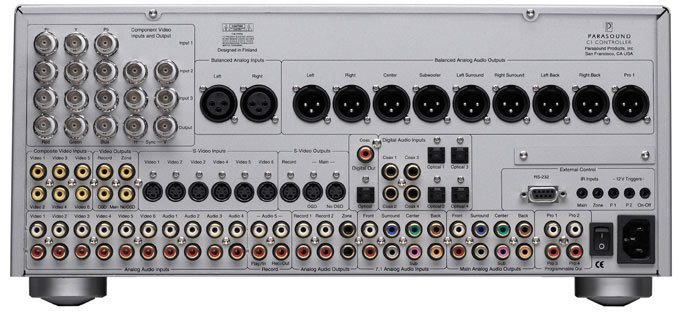 C 1 Features:
Dolby Digital EX, DTS ES, and Dolby Pro Logic II surround THX Ultra2 Certified with THX Surround EX 7.5 Channel Enhanced Surround; 7.1 with 4 programmable outputs
Additional DSP modes include Surround Music and Party Patented hybrid bass management prevents time smearing
5" front panel TFT display of main or zone video and the setup menu
Automatic digital audio and video input selection
Nine balanced outputs, two balanced inputs with XLR connectors
Four audio only inputs plus a tape monitor/external processor loop
Eight digital inputs; two digital outputs 7.1 analog input with pure analog path, bypasses
DSP Six audio/video inputs with composite and S-Video connectors
3 composite video and 3 S-Video outputs: OSD, no OSD, record 2 assignable component/RGB video inputs with separate H and V Sync
1 additional assignable component video input 1 component/RGB video output with separate H and V Sync
BNC to RCA adapters are included for component video jacks
Component inputs/output pass 1080i and 720p signals flawlessly
Digital inputs and surround modes are assignable to sources
Presets for optimum analog input levels for various sources 100% automatic calibration of channel levels and delay times
Calibration microphone with 25í cable included Dual zone control with analog audio and composite video outputs
External IR input jacks for main and second zone
Three 12v triggers, two programmable for events; wires included
Fully upgradeable and controllable via two-way RS-232 port
Unique inductive-capacitive LC power supply post-filtering 4u chassis, rack mountable
Award winning customized MX-700 and Sidekick remotes included
Parasoundís 10 years parts, 5 years labor warranty
C 1 Specs:
Frequency response: digital inputs 20 Hz - 42 kHz; analog inputs 20 Hz - 22 kHz; 7.1 channel input 5 Hz - 200 kHz +0/-3 dB

Total harmonic distortion: digital inputs <.002%; analog inputs <.002%; 7.1 channel input <.002%

Signal to noise ratio: digital inputs 102 dB; analog inputs 98 dB; 7.1 channel input 107 dB

Maximum input levels: balanced 35 V rms; unbalanced 3.6 V rms; 7.1 channel input 8 V rms

Maximum output levels: balanced 16 V rms; 7.1 channel outputs 8 V rms; programmable outputs 8 V rms
Video bandwidth: composite and S-video (non OSD) 30 MHz; component video 300 MHz

Dimensions: 17-1/4" w x 7-5/8" h x 16" d, 7" h without feet
Net weight: 22 lb.
---
You can call us for free from anywhere in the USA!
Our Business Hours are:
Monday - Friday 11am to 7pm Pacific Time
Saturday 12pm to 5pm.
We are closed on Sunday!
---
Updated: January 2, 2002
---
---
---
---

1044 Fourth Street, Santa Rosa, CA 95404
Phone/Fax 707-578-4434 or 800-450-HIFI
marcs@sonic.net