Soundscape Product Listing
---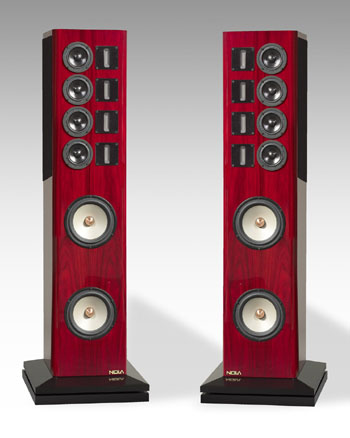 ---
Soundscape Price: $55,000*
*Includes free delivery anywhere in the continental US!
At the January 2008 CES, Accent Speaker Technology introduced the Nola Baby Grand Reference loudspeaker. Seven years of research have gone into this product, as it uses the same technology found in our flagship $145,000 Nola Grand Reference. The Baby Grand is a smaller two-tower system utilizing the exact same transducers as are found in the Grand Reference in order to provide the same quality. A pair of Baby Grand towers employs four 9-inch magnesium woofers, eight 4½-inch open baffle dipole midranges with Alnico magnets, and eight 4-inch true ribbon tweeters with neodymium magnets. The drivers are arrayed in a unique mirror-imaged, short line source, open baffle array. Enclosure coloration throughout the middle and high frequencies is non-existent. This unique design produces life-sized images while retaining focus and sounds "live" instead of the typical mechanical sound of most loudspeakers.
The 3½-way passive Xtreme Crossover is mounted in an external unit to further free the loudspeaker from coloration due to crossover component vibration. The Xtreme Crossover utilizes state of the art passive components as are used in the Nola Grand Reference. The Baby Grand comes with a ball-bearing speaker isolation base to free it from the sound of coloration due to floor vibrations. The Xtreme Crossover is bi-wired to the amplifier and is connected to the speaker via the supplied Nordost Valhalla mono-filament jumpers.
RMAF 2008 Show Report (Rocky Mountain Audio Fest) Article By Ron Nagle

As it happened the first room I walked into was producing some very decent sound. It was housing Nola Accent Speakers. Carl Marchisoto was demonstrating the Nola Baby Grand Reference speakers powered by Audio Research CD-7, Reference 210 mono amplifiers and Reference 3 preamp. The $55,000 speakers have eight open baffle dipole midrange cone drivers and eight 4-inch ribbon tweeters above a bass cabinet housing four 9-inch magnesium woofers. The music I sampled had power without edges, smooth and very life like it was one of the most natural sounds at the show.


Issue 190 / February 2009

Rocky Mountain Audio Fest 2008

Jonathan Valin's Best of Show Runner-Up:
Nola Baby Grand References

In room 431, the $55k Nola Baby Grand References, ribbon/cone dipole with separate woofer towers, powered by ARC 210 amps, an ARC Reference 3 preamp, and an ARC CD7, were once again superb -- very neutral with a wonderful density of tone color. They sounded simply great on the music I played -- so lifelike in timbre and so dynamically alive and open and bloomy and airy that they came within a hair's breadth of winning my Best Sound of Show Award.

CES 2008: Chris Martens Explores Affordable Loudspeakers at CES

Best Sound: Though perhaps not the most "accurate" system at the show, Nola's Baby Grand Reference speaker system ($55k), as driven by Audio Research source and amplification components, captured the "feel" of live musical events more effectively than anything else I heard at CES.
Specifications
Frequency Range: 20 Hz to 45 kHz

Dimensions: 62 inches H x 12 inches W x 16 inches D (overall with bases); 18 inches W x 22 inches D (bases)

Sensitivity: 89 dB

Weight: 150 lb. net per side

Finish: True Piano Rosewood (Towers) and True Piano Black (Bases)
Specifications subject to change without notice.
---





Home Theater Speakers


Cable and Accessories



Last Updated: January 5, 2009
Extended Warranties Available!
---
CLEARANCE SALE
We now offer 90 Days Same As Cash (SAC) 365 days a year !
Come in and ask us about it.

---
Our Business Hours are:
Monday - Friday 11am to 7pm Pacific Time
Saturday 12pm to 5pm.
We are closed on Sunday!
---
Extended Warranty
---
We accept



over the phone or by E-mail.
---
ORDERING ONLINE
click here!
ORDERING BY PHONE
If there is no authorized dealer in your area you can order directly from Soundscape with a 10-day, satisfaction, money-back guarantee.
US and Canada, 1-800-450-HIFI (1-800-450-4434)
Outside the US and Canada, (707) 578-4434
Monday - Friday 11:00 AM - 7:00 PM (PST)
Fax: (707) 578-4436
---

---


1044 Fourth Street, Santa Rosa, CA 95404
Phone/Fax 707-578-4434 or 800-450-HIFI
marcs@sonic.net