Soundscape Product Listing
---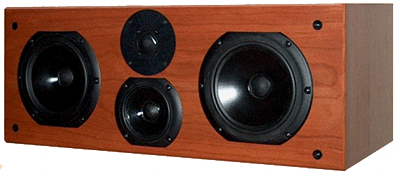 Soundscape Price: $2195
The LCR Reference loudspeaker employs open baffle technology to eliminate box coloration from home theater reproduction and to provide a perfect match when used as a center channel with other Nola open baffle main speakers. It also functions well with other brands of low-coloration main speakers when highest quality voice reproduction is required from the center. It can be used as left, center and right speakers or as surround speakers. For instance, a maximum quality home theater can be set up using Viper II main speakers with an LCR Reference as center and a pair of LCR Reference loudspeakers as surrounds. The T Bolt II subwoofer would complete the system. Five LCR Reference loudspeakers and a T Bolt II subwoofer can also be used.
The LCR Reference utilizes four drivers in a 3-way system. Twin, sealed 6½-inch bass drivers flank a vertical array of a 4½-inch tri-laminate open baffle dipole midrange driver featuring a new Alnico magnet system, and a 1-inch aluminum alloy dipole dome tweeter (same as used in the Viper II). The open baffle array of midrange and tweeter provides the spacious, coloration free, dynamic and alive sound that Nola speakers are known for worldwide. Wide, smooth, horizontal coverage is provided when used as a horizontal center channel. When a pair is used vertically, one can be turned upside down to produce a mirror-imaged pair with excellent focus.
Specifications
System: Three way, four driver with open baffle mid and tweeter.
Low frequency: Twin 6 1/2" bass drivers in separate sealed chambers
Mid frequency: 4 1/2" tri-laminate cone operating as open baffle dipole
High frequency: 1" aluminum/magnesium dipole dome on open baffle
Response: 40 Hz to 25000 Hz
Minimum Power: 30 watts
Crossover: Two board bi-wire Impedance: 8 ohm nominal, 4 ohm minimum
Dimensions: 25"H x 9"W x 11 1/2"D, 45 lbs.
Finish: Cherry wood or black ash wood with black cloth
Specifications subject to change without notice.
---





Home Theater Speakers


Cable and Accessories



Last Updated: January 5, 2009
Extended Warranties Available!
---
CLEARANCE SALE
We now offer 90 Days Same As Cash (SAC) 365 days a year !
Come in and ask us about it.

---
Our Business Hours are:
Monday - Friday 11am to 7pm Pacific Time
Saturday 12pm to 5pm.
We are closed on Sunday!
---
Extended Warranty
---
We accept



over the phone or by E-mail.
---
ORDERING ONLINE
click here!
ORDERING BY PHONE
If there is no authorized dealer in your area you can order directly from Soundscape with a 10-day, satisfaction, money-back guarantee.
US and Canada, 1-800-450-HIFI (1-800-450-4434)
Outside the US and Canada, (707) 578-4434
Monday - Friday 11:00 AM - 7:00 PM (PST)
Fax: (707) 578-4436
---

---


1044 Fourth Street, Santa Rosa, CA 95404
Phone/Fax 707-578-4434 or 800-450-HIFI
marcs@sonic.net