Soundscape Product Listing
---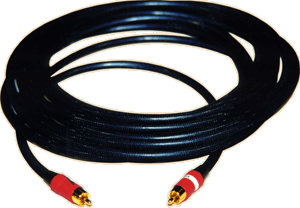 Soundscape Price: Minimum of 5 feet 5 - 10 feet: $29.50 per foot
Additional lengths over 10 feet: add $25 per foot over 10 feet
After the T Bolt II Subwoofer was developed, it was discovered that performance was compromised under certain conditions. The lack of bass extension and detail was eventually traced to the interconnect cable: it was found that many interconnect cables will compromise the bass quality of the T Bolt II.
A special interconnect cable, Thunderbass, was developed and optimized for bass quality. When this cable is used, the T Bolt II's bass response improved significantly, and the main speakers sounded more transparent as well.
In addition, the qualities that make Thunderbass excellent for connecting to a subwoofer - focus, dimensionality, superior soundstaging and dynamics - are also in abundance when the cable is used full range. For this purpose, Thunderbass is also sold in pairs.
---





Home Theater Speakers


Cable and Accessories



Last Updated: January 5, 2009
Extended Warranties Available!
---
CLEARANCE SALE
We now offer 90 Days Same As Cash (SAC) 365 days a year !
Come in and ask us about it.

---
Our Business Hours are:
Monday - Friday 11am to 7pm Pacific Time
Saturday 12pm to 5pm.
We are closed on Sunday!
---
Extended Warranty
---
We accept



over the phone or by E-mail.
---
ORDERING ONLINE
click here!
ORDERING BY PHONE
If there is no authorized dealer in your area you can order directly from Soundscape with a 10-day, satisfaction, money-back guarantee.
US and Canada, 1-800-450-HIFI (1-800-450-4434)
Outside the US and Canada, (707) 578-4434
Monday - Friday 11:00 AM - 7:00 PM (PST)
Fax: (707) 578-4436
---

---


1044 Fourth Street, Santa Rosa, CA 95404
Phone/Fax 707-578-4434 or 800-450-HIFI
marcs@sonic.net